Anyone spending hours on their computer every day will tell you that having the right tools at hand is serious business. Deciding on the best mouse is a subjective process where several things come into play: intended use, feature set, grip style, price, and how comfortable a given device feels in your hand.
Over the years we've tested some of the best mice on the market, but to come up with this list we combined our staff's collective experience with hundreds of reviews and users' feedback. After a few updates to this feature, we've come to conclude and recognize something about our own buying habits: the best gaming mice are usually the most comfortable to work long sessions (thus making it the best overall peripheral) — plus, you probably don't juggle between mice depending on what you're doing, unless you need a ton of buttons for MMOs, or something of that nature.
Best Mouse for Enthusiasts and Gamers
Razer DeathAdder Elite
 In numbers
Price: $59
User Reviews:8.6
The Razer DeathAdder is consistently mentioned and chosen by reviewers and gamers alike as the top gaming mouse around — it was also our best overall pick last year. The latest iteration of the DeathAdder dubbed 'Elite' keeps the same comfortable and ergonomic design that we know and love, but with a few improvements inside and out, including a new "5G Optical Sensor" that's capable of tracking up to 16,000 DPI at 450 inches per second.
Razer claims the DeathAdder Elite has the highest resolution accuracy ever recorded in a gaming mouse at 99.4%. You will rarely — if ever — use the mouse at its peak sensitivity but we can tell you after using the Elite for a few months that it tracks movement with flawless accuracy.
The overall design hasn't changed, which is a good thing, since it was already a comfortable and ergonomic gaming mouse. That said, in addition to the two well placed, ample side buttons, the DeathAdder Elite has added DPI buttons below the scroll wheel for quick sensitivity switching while gaming. The scroll wheel itself has also been redesigned with tiny bumps for extra grip.
Razer worked with Omron on the Elite's mechanical switches and claims they are "tweaked for the fastest response times for gaming and for extended durability up to 50 million clicks." Longevity is specially important here given the DeathAdder's mixed track record in this department. Admittedly we are fans of the DeathAdder at TechSpot, three people in the office use it and we've bought almost a dozen of them in the past 5+ years. A portion of those were used through their expected lifespan, but three failed on us while still relatively new. Hopefully the new switches will make this a thing of the past. For this same reason, we'd recommend to spend the extra $20 and go for an Elite and not buy one of the previous generation Deathadders, even if they're discounted.
The Elite uses Razer's Chroma lighting system so you can customize away using the accompanying software. We don't love that the Razer Synapse software requires to create an account to use it — a somewhat unnecessary annoyance if you don't care for cloud-based storage for personalized gaming settings — however we have to admit Razer's software has continued to improve and now just functions silently in the background unless summoned, which is the way it should be.
Razer offers a left-handed version of the DeathAdder, too. It should be noted though this model hasn't been updated in a while, so the sensor only goes up to 3,500 DPI and the sides of the mouse have a smoother plastic finish instead of a rubbery grip.
Your opinion may vary on how comfortable a mouse is depending on your grip style and hand size, but most agree the DeathAdder is extremely comfortable to use even in extended gaming sessions, and at approximately 100 grams it slides easily across a mousing surface.
A Very Solid Alternative
The Logitech G502 Proteus Spectrum is a well-made, high-performance gaming mouse with a comfortable design. The device is flexible, working flawlessly on a variety of surfaces, not to mention its five chevron-shaped 3.6g weights (it can go from 145g to 163g), eleven programmable buttons, dual mouse wheel modes and in-game DPI shifting ranging from the pixel-precise 200 DPI to a lightning-fast 12,000 DPI.
Like the DeathAdder, the G502 has gone through previous iterations, so this is a refined piece of hardware that is equally great for gaming or heavy duty desktop work — albeit a tad more heavy than the Razer. Originally launched at $80, the Logitech G502 Proteus Spectrum can be found for about $60  which is truly a steal.
A Step Up: The Luxury Gaming Mouse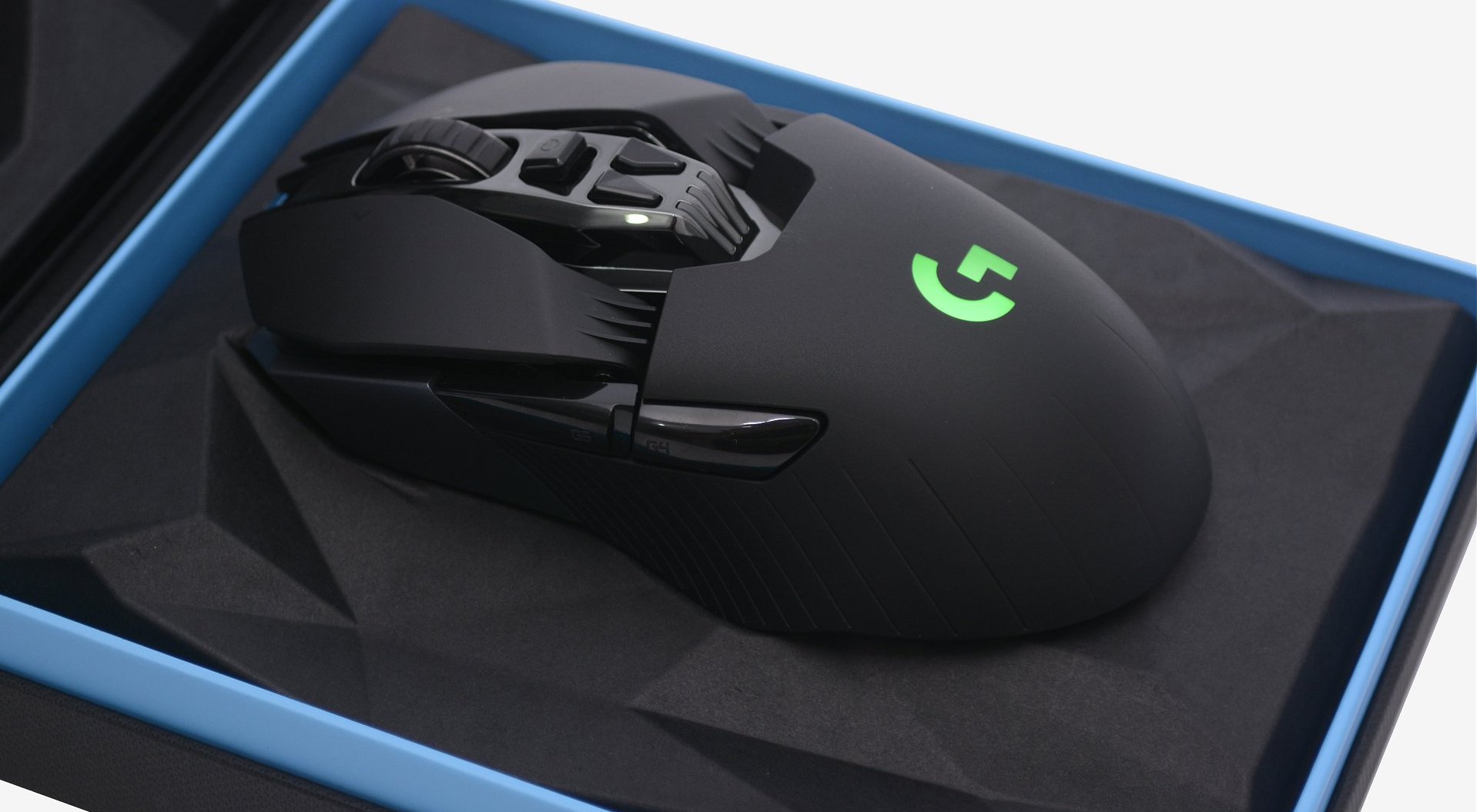 Our upgrade pick costs about twice as much as you might typically spend on a gaming mouse at $140, but the Logitech G900 Chaos Spectrum packs incredible hardware and unparalleled attention to detail when it comes to design.
It's incredibly light for a wireless mouse at 107g, with a fantastic shape that contours to the hand beautifully and accommodates a variety of palm, claw and fingertip holds. It has an aggressive yet sleek ambidextrous design but this doesn't come at the expense of comfort. The left and right-clicking buttons feel solid and use a pivot design to ensure a rapid, satisfying feedback no matter where you press.
The G900 features the PMW3366 sensor which delivers tracking accuracy and consistent responsiveness at any speed, with zero smoothing or filtering across the entire DPI range (200-12,000 DPI). The mouse has two side buttons positioned under the thumb, which can be magnetically detached and placed on either side for left or right hand use. You can also have all four buttons attached to both sides if it suits your needs.
In total there are 11 programmable controls, including DPI sensitivity toggles and a click / tilt scroll wheel that can be configured for click to click precision or blazing scrolling speeds. Other perks include RGB lighting that's configurable through Logitech's software. As for battery life, the G900 contains a 720 mAh rechargeable lithium-polymer battery that will give you around a week between charges. Conveniently, the G900 turns into a wired mouse with a micro USB cable when it needs a recharge.
For MMO Gamers
We are not huge MMO gamers, but if we're taking everyone's word for it, the Razer Naga Chroma is the most recommended mouse of its kind out there. Optimized specifically for MMO games the Razer Naga offers a total of 19 buttons — twelve of them on the side in four rows of thumb buttons. Each one of these buttons rest at a different elevation due to the curvature of the mouse, making it easier to tell them apart.
The Naga Chroma uses the same Razer Synapse software as the DeathAdder and the mouse itself is very responsive and accurate at up to 16,000 DPI. It'll set you back around $60. There's also a wireless version of this mouse called the Naga Epic Chroma, there are few differences including a slower sensor and about twice the price of admission.
Best Wireless Mouse
Logitech MX Master Wireless Mouse
In numbers
Price: $62
User Reviews:8.2
The MX Master features a perfectly sculpted shape that supports your hand and wrist in a comfortable, natural position. It's precise and highly customizable. The Darkfield Laser sensor can be set as low as 400 and as high as 1600 in increments of 200 DPI, and it tracks flawlessly on a range of surfaces.
Although it's a big mouse, the Logitech MX Master doesn't feel 'fat', with all of the main controls well positioned and easy to reach. You get five programmable buttons, a dual mode scroll wheel — click-to-click and hyperfast — and a thumb wheel that can be used for things like side-to-side scrolling, turn pages, switch applications, flip through tabs, and so on.
You can connect the mouse to up to three different devices at once, either through the included Unifying Receiver or Bluetooth. By pressing the switching button located at the bottom of the mouse, you can jump from device to device, which is great if you use of multiple screens.
The Logitech MX Master ($65) is rechargeable through the Micro USB port on the front. Based on six hours of use per day, Logitech says a full battery will last up to 40 days. In any case the MX Master won't be stopped in its tracks once the battery runs flat. Instead, you just have to attach the USB cable and it can be used while it recharges.
All in all, the MX Master is a great mouse that delivers in terms of form, features and performance. You have to be comfortable with a palm style mouse to like it, and if you are then there is a good chance you will love it.
Backpack Friendly
If you are constantly on the go then you probably don't want to carry around a full size mouse. The Logitech MX Anywhere 2 is a smaller travel mouse that's portable enough to keep on your bag, but not too small to be cumbersome to use for extended periods. The Anywhere 2's main feat is that it can track on nearly any surface including glass, it's portable yet fully featured including Logitech's speed-adaptive scroll wheel, and also inherits the MX Master's easy switch technology to pair up to three devices. It includes a 1,600 dpi sensor and is meant to last over a month on a single charge. But if you run out of battery, you can still plug it and keep using it just like the MX Master.
The only downside to the Anywhere 2 is arguably its price. If you rely on your portable mouse on a daily basis, then you should have no problem justifying its $55 price tag. However, if you rarely use a mouse on the go, then there are cheaper options to consider.
Within that group the Logitech M705 Marathon is an old favorite that's available for about $25. The M705 is a little larger than the typical portable mouse but that also makes it more comfortable to hold than the typical portable mouse. It feels sturdy and well built. On the underside of the mouse is the battery hatch and storage for the Unifying Receiver USB dongle. You can choose to use either one or two AA batteries, which will affect overall weight and also the center of gravity for the mouse. Clever. Logitech says the M705's battery life lasts a maximum of three years.
Best Value
Logitech G402 Hyperion Fury
The G402 Hyperion Fury is a leaner version of the G502 Proteus Spectrum. It loses the weights system and some customizable buttons. In addition to the standard left and right buttons and clickable scroll wheel, the mouse also boasts a sniper button (for one-touch DPI switching), DPI up and down buttons (which cycle between four DPI presets), and two programmable thumb buttons.
The physical shape and aesthetics of the G402 are similar to the G502, which is to say it's very comfortable to hold. The resting place for your thumb is reduced in size but still provides plenty of support. It's a quality FPS gaming mouse, with superb tracking abilities. It can go from 240 to 4,000 DPI and its standout spec is a tracking speed of 500 inches-per-second.
Using Logitech's accompanying software, you can program the various buttons with complex macro commands or single keystrokes, and your personal configuration can be saved to onboard memory.
The G402 doesn't come with a braided cable like the G502 and it also replaces the dual mode scroll-wheel with a simpler click-to-click only wheel. At around $40 it's competitively priced for what you are getting, combined with great ergonomics and feature set make the G402 a great buy.
A No-Frills $20 Mouse
You can get an excellent mouse like the Logitech G402 for ~$40, so we really recommend you set this as the starting point for your daily driver. However, if you really need to go lower, or just want a spare unit to have around for occasional use we'd recommend our budget wireless pick, the Logitech M705 Marathon which is about $25.
If wireless won't do it for you, the Redragon M601 Centrophorus is a favorite among cheap gaming mice for just $14, that is unless you want to go for a plain two button mouse like the $10 Microsoft Optical.
By: Techspot